The "hat" means the fried egg on top. when you order it in the restaurant, you can say "xxx rice with hat" instead of with egg. of course not all of them. preferably restaurants in Hong Kong, if you try it in other places other than Hong Kong I'm not sure but they might actually give you a real hat, especially tropical countries. No offence but i really see a lot of them wearing straw hats..
This minced pork dish is certainly a good and easy and good value meal. ideal food to cook when you just want to sit back and relax and not doing the cooking work all day. Great for a Wednesday (yeah that's why this is posted today let's make it easy).
"帽" 其實係指頂頭的煎蛋. 下次去餐廳點飯時可以點"乜乜物物飯加頂帽". 但最好係香港的餐廳度試, 其他國家的餐廳我唔肯定佢地明唔明你講咩, 有可能會真係俾頂帽你, 尤其係熱帶國家的餐廳, 唔知點解我成日見佢地戴草帽..
言歸正傳, 呢個飯真係好易煮, 最岩一個繁忙的工作日放工後"hea煮". 之所以呢個飯在星期三出版囉!
first of course we need some minced pork.
首先我地需要免治豬肉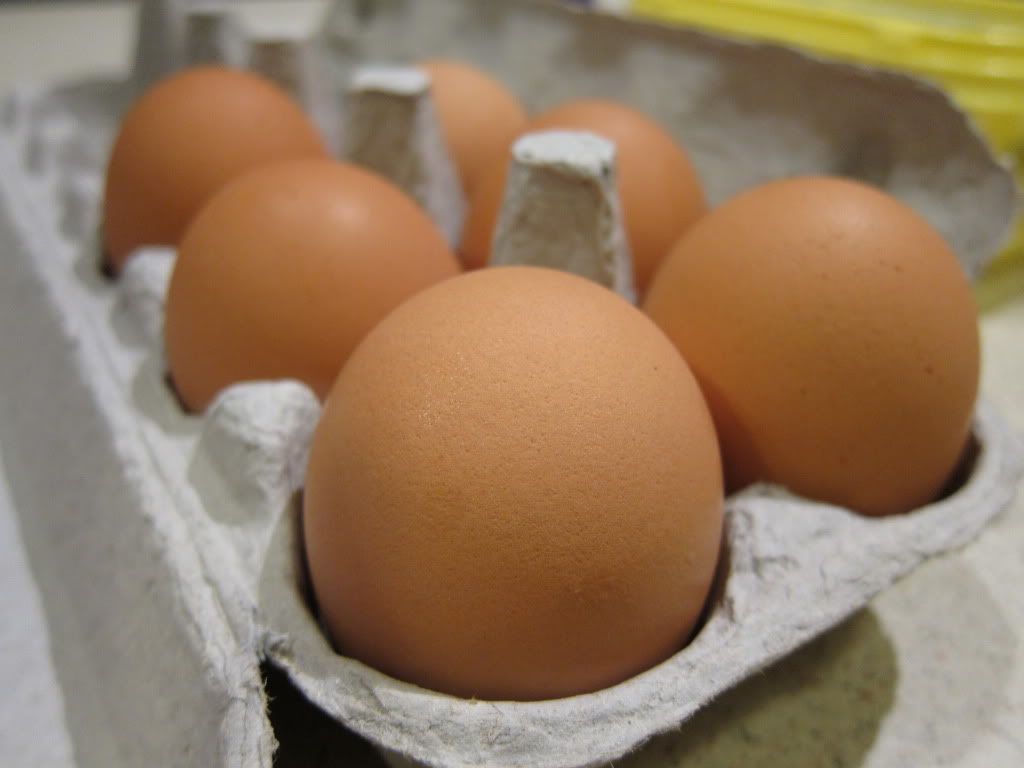 and egg.
然後係蛋.
don't forget the rice!
當然還有飯啦
Ingredients
材料
Minced pork (preferably partly fat, not too lean) 500g
Egg 1-2
Rice 1 cup(250ml)
Light soy sauce
Dark soy sauce
Star anise/Five spice powder
Rock sugar or Sugar
Oil
(shitake mushroom optional)
Ground white Pepper
Rice wine/chinese wine
Garlic 2 cloves minced
Ginger 1-2 slice
Onion minced
Water
免治豬肉 (以半肥瘦為佳, 唔好太瘦) 500g
蛋1-2隻
飯1杯(250毫升)
生抽
老抽
八角/五香粉
冰糖或糖
米酒
(冬菇)
油
蒜蓉 2瓣左右
薑 幾片
洋葱碎
水
Method
做法
Put the rice in the rice cooker. 1 cup of rice use 1 cup of water. Press the "cook" button and wait for it to switch to "warm". 1 cup of rice makes about 2 serves. you can adjust it. rice to water ratio is 1:1 anyway. even the rice in the cooker so the top is flat instead of a hill like you just pour it in. do it by gently shaking the inner pot.
Start the pan/wok with some oil with ginger, onion and garlic mince.
Put the meat in.
Add the sauce and seasonings the way you like, taste it while you're cooking it (after the meat is cooked of course) preferably a little bit of each, but no specific amount really
.
Add some water.
When it's cooked, pour the meat with some sauce onto the rice.
Fry and egg and put it on top of the meat, looks like a "hat" doesn't it
?
先煮飯, 飯水比例 1:1 唔駛多講, 用電飯煲.
下油薑蒜洋葱爆香鑊.
下肉.
然後隨心落上述調味料, 每樣少許邊煮邊試味(肉熟左先好放落口!)
放肉上飯.
煎隻蛋放上肉.
It's ready and enjoy it!
完成~
-----