one good thing about making your own pizza, you can add whatever you like on it, not limited only to the menu
. jack daniels, bacon strips, bacon strips, bacon strips!
there're many different ways to make pizza. and sure there are some authentic ones. but most of our readers aren't italians. here we're gonna introduce "making it the way you like". not sure if it's authentic, but sure it's delightful!
one way to do it, is to make everything from scratch, including the pizza base, excluding the oven. another way to do it (the way we chose) is to buy the pizza base, and top everything you want.
don't worry about "buying the pizza base isn't really cooking", you don't have to grow your own cow to cook a steak. you're still buying a piece of steak and heat it up. there's no much difference.
so if you've got over you psychological obstacle, we can now start
.
咁其實整薄餅唔使下下自己由餅皮開始做,去超市買個現成架啦,方便快捷唔使煩。當然啦,如果你鍾意自己整皮都無話唔得,下面會教埋點整。至於上面
d
材料你鍾意落乜都得,睇你自己鍾意,都幾好玩架。
Ingredients:
材料
Sauce we used: pasta sauce for the base, bbq sauce for the top
餅底用左意粉醬, 醬汁用左燒烤醬
we used the pasta sauce(on the right), you can use tomato paste or tomato sauce instead. pasta sauce tastes better; then tomato paste; then tomato sauce, use it when it's the only available sauce or if you really like it.
呢個薄餅我地用左圖中右邊的蕃茄意粉醬, 比較好食. 如果搵唔到就可以用茄膏代替, 都無的話才用茄汁.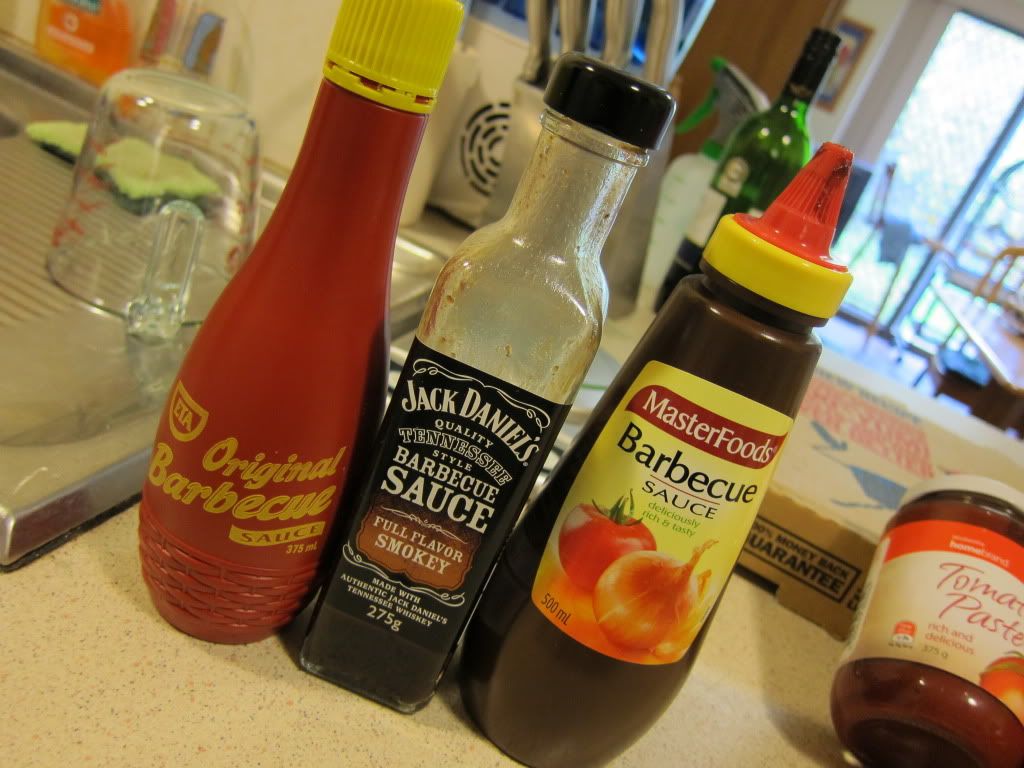 BBQ sauce, we used the MasterFoods one on the right, but these are other brands you can also use, or any other brand you think is good.
燒烤醬, 西式的, 同中式燒烤醬唔同, 我地用左圖中右邊的, 但咩牌子都可以你中意就得. 只要唔好用中式的燒烤醬, 否則薄餅好可能會變左燒味.
Cheese we used:
芝士:
Mozzarella cheese or any cheese that contains mozerella will do, or any cheese you like. mozerella is the one provides the stringy texture when you tear it. it's easier if you buy the shredded one if you're lazy like me.
芝士用左Mozerella意大利白乾酪, 這就是你扯開薄餅的時候, 造成藕斷絲連效果的主要芝士. 你可以買呢種, 或者含有呢種芝士的混合切條芝士都可以. 懶的話買圖中切好的就可, 通常比較容易搵到混合幾種的芝士, 味道會更有層次.
toppings we used: bacon, chicken, tomato, mushrooms, onion


餡料我今次落左﹕煙肉

、雞、蕃茄、磨菇、洋葱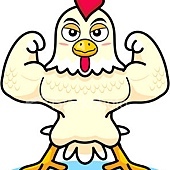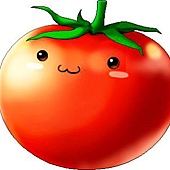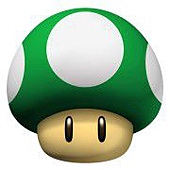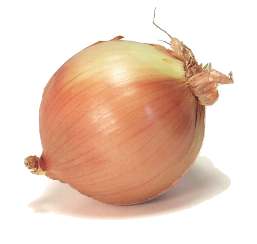 (didn't try to make it funny. just forgot to take pictures of the ingredients.)


(

對唔住,唔係想搞笑, 只不過係無影相

)
the pizza base:
1 3/4 cups self-raising flour
1/2 cup Parmesan cheese
1/4 cup vegetable oil
2/3 cup boiling water
餅皮﹕
1 3/4
杯
自發粉

1/2
杯
Parmesan
芝士

1/4
杯
植物油

2/3
杯
滾水
Method
Place flour and cheese in a bowl. Make a well in the dry ingredients and add oil and boiling water.
Stir with a fork to combine. Knead just to combine and cover in plastic wrap and set aside while pizza toppings are prepared.
Roll out the pizza dough to suit the size of tray. Top with choice of toppings.
步驟
放麵粉同芝士落個大碗度,攪混佢,再加滾水同植物油。
用叉攪混晒佢地,搓埋一舊,然後用保鮮紙包住佢先。
搞掂埋餡料,就可以碌一碌個餅皮,視乎你想幾大幾細,再加埋
d
餡料上面。
OR
或者
[EASY WAY]
put the toppings on the bought pizza base.
and bake it in 200C oven for 30 minutes.
簡單
d
——放晒
d
餡料落個現成餅皮度,完左。
然後用焗爐
200C
焗
30
分鐘。
sequence of toppings and sauce (from bottom to top): tomato paste, little bit cheese, meat and vegies, bbq sauce, cheese.
小提示﹕其實落餡料個先後次序都有學問架,由底到面應該係——蕃茄醬,少少芝士,肉同蔬菜,燒烤醬,芝士。
should look like this before put in the oven:
入焗爐前大約係咁樣﹕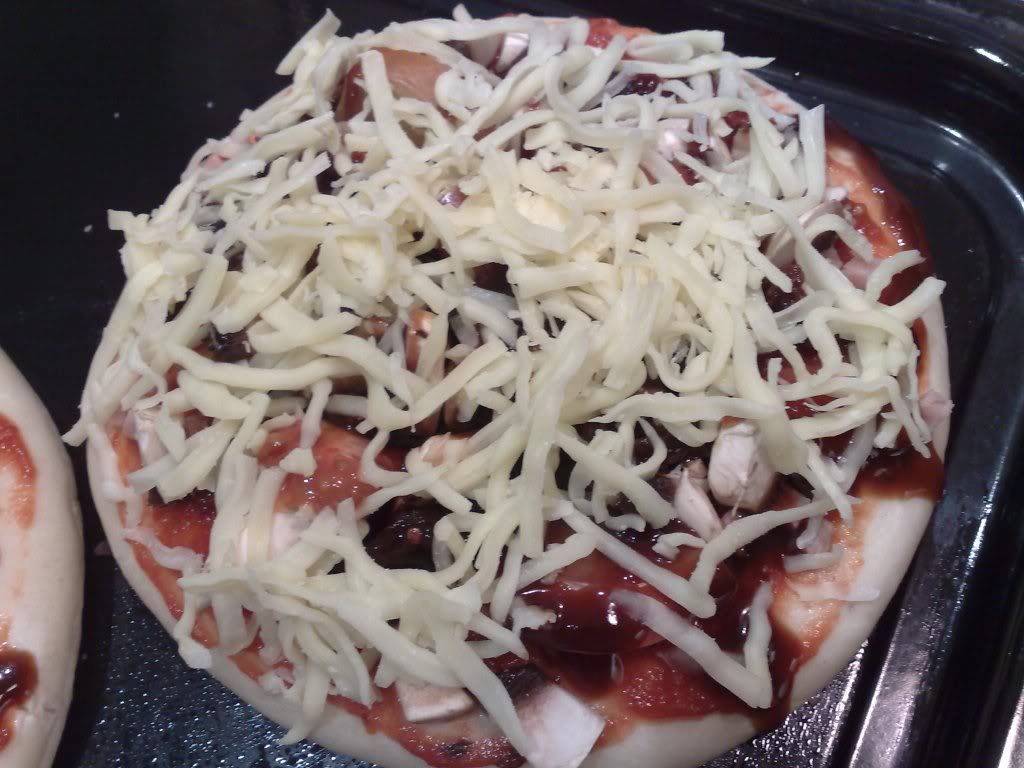 Or, you can do it this way:
或者咁樣﹕
(if you do it this way you need to cook L__________onger time!)
不過如果你放到咁就焗十世都未食得。
Have a Greaaaaaaaaaaaaat dinner
!
好,開飯。
Reference:
http://www.bestrecipes.com.au/recipe/No-Yeast-Quick-Easy-Pizza-Base-L3700.html
http://mario.wikia.com/wiki/1-Up_Mushroom
http://rjsolis.wordpress.com/2010/06/14/chicken-shit/
http://forums.hobbyhype.com/showthread.php?t=1006
http://maplestory.wikia.com/wiki/Monsters_Event_A
特別鳴謝中文撰寫: 銀戰士

Acknowledgement to interpretation to Chinese: Silver Ranger
-----